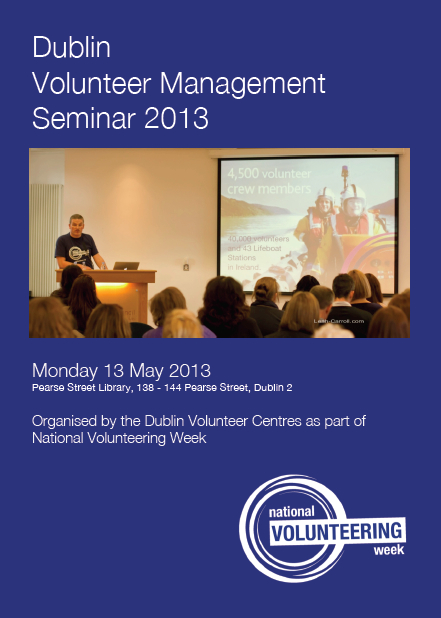 Behind Dublin's thousands of volunteers lie the equally dedicated individuals and organisations responsible for their recruitment, training, support, and management. These are the people that can inspire volunteers and enable an environment where volunteering can thrive.
As part of National Volunteering Week (May 13 – 19) the five Dublin Volunteer Centres have come together once again to present the second Dublin Volunteer Management Seminar on Monday 13 May from 10:30 to 16:15. This is a free to attend event as part of National Volunteering Week and places are limited to 100 participants
Our keynote speaker this year is Violet Dalton, Head of Volunteering with the National Trust of Scotland. She will be joined by the managers of the five Dublin Centres to look at topics such as: motivating volunteers, older people volunteering, event volunteering as well as an update on Investing in Volunteers and the launch of the Dublin wide Volunteer Managers Network (VMN). All in it promises to be a great event for anyone who manages volunteers in Dublin City and County.
Who Should Attend?
• Groups and organisations from the Greater Dublin Area (large and small) currently involving volunteers or those thinking of involving volunteers.
• Individuals (paid or unpaid) working directly with volunteers or who are responsible for managing volunteers in some capacity. Programme Download a copy of the Seminar Programme (Adobe PDF File)
http://www.volunteerfingal.ie/images/dublin_seminar2013.pdf
Registration
To book your ticket go online to http://volunteeerseminar-eorg.eventbrite.ie
Terms and Conditions – please read
> Registration is on a first come, first served basis
> In terms of fairness and to ensure that as many people get to attend, each organisations is limited to two tickets.
> Please note that places are limited to recognised volunteer involving organisations based in the greater Dublin area
> Unfortunately applications from outside Dublin will not be accepted.
For more information on National Volunteering Week, sponsored by Garnier please visit www.volunteer.ie