THE LATEST NEWS FROM FINGAL VOLUNTEER CENTRE
Latest news from Fingal Volunteer Centre:
What is excellence? Pushing us beyond the ordinary: free event on International Volunteer Managers Day (see below);
Virtual Outreach Programme: upcoming Virtual Outreach Sessions next week (see below);
I-VOL: the National Volunteer Database for showcasing your volunteer roles and recruiting new volunteers (see below);
Volunteer Ireland training sessions: check Volunteer Ireland Training Sessions calendar(see below);
What is excellence? Pushing us beyond the ordinary
For this year International Volunteer managers Day we invite you to participate to an excellent webinar offered by Volunteer Ireland.
The topic is Excellence and how to better evaluate ourselves as Volunteer managers and coordinators.
The speaker is Martin J Cowling, an experienced volunteer manager and leader. Martin has been a volunteer, hands-on manager, leader, researcher and consultant.
He has worked from small grassroots organisations in Australia through to senior management roles with large social purpose organisations.
I'll be there, will you book your free ticket and join me?
DATE: Fri 5th Nov 2021
TIME: 11-12pm
VENUE: Online on Zoom
TO BOOK YOUR FREE TICKET: What is Excellence?
Virtual Outreach Programme:
Upcoming Virtual Outreach Sessions next week!
During the Outreach week you'll get the chance to have a Zoom meeting with Chiara, our Placement and Outreach officer, and discuss better options for improving your volunteer recruitment and discover our services and upcoming events.
Available dates for one to one appointment (30/40 minutes each):
Wednesday 27th: 3-5pm
Friday 29th: 12-1pm
To book your appointment please email Chiara at chiara@volunteerfingal.ie or simply reply to this email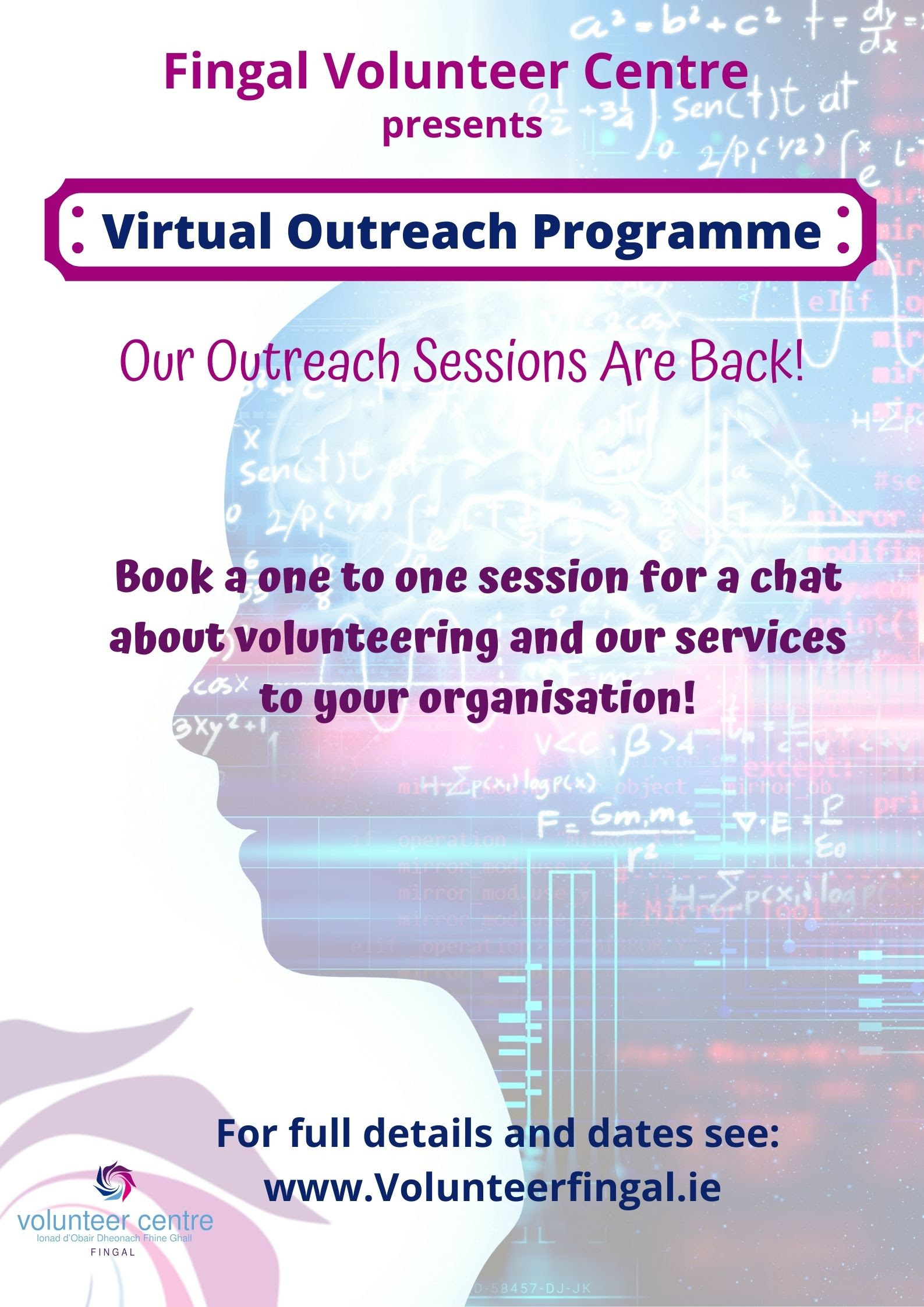 I-VOL: National Volunteer Database
Are you searching for new volunteers?
If you're looking for more volunteers this is the site for you: I-VOL, the National Volunteer Database.
When thinking about possible volunteer roles we encourage you to be creative and consider different types of volunteer opportunities to involve volunteers, even virtual ones!
We have many skilled volunteers registered on our database and they'll be more than happy to help you out. Possible roles: graphic designers, project managers, website developers, social media experts and more.
To Post a new volunteer opportunity please click here: Post an opportunity
It'll ask you to add your VCI Key: you've received it in our very first email when you registered but if you can't find it, fear no more! Just reply to this email or email Chiara at chiara@volunteerfingal.ie and we'll send it to you.
Volunteer Ireland: Training Sessions
Volunteer Ireland offers several occasions for improving our volunteer management skills, enhancing our leadership and networking with fellow volunteer coordinators.

INFO FOR VOLUNTEERS
Before considering volunteering ask yourself – Am I well enough to volunteer?
Your safety and limiting the spread of the coronavirus being the main priority, Volunteer Centres continue to encourage you to adhere to HSE instructions on how best to avoid COVID-19, both in the work environment and at home.
Our VISION is for a vibrant Irish society where every person feels connected to their community through active participation in voluntary activities.
Our MISSION is to promote the value of volunteering and and increase the range and quality of volunteering in Ireland.